Heywire website design, email solutions, hosting and cloud services
An experienced, guiding hand in a hectic digital world
Welcome to Heywire
Since 1999, Heywire has worked tirelessly to make technology approachable and capable of delivering a handsome return on investment for businesses across the UK.
From WordPress website development to full service network and cloud systems, we always go the extra mile to ensure that each and every customer receives a solution that is perfectly tailored towards their needs.
We also recognise that while every business is different, they all share a common challenge: how to make sense of modern technology and invest in systems that offer real-world benefits.
We've seen countless tech trends come and go and always have an eye on what's coming next. Our personalised service puts a very different spin on what is usually a faceless, confusing, acronym-filled industry.
Join us, and we'll make sense of the technology requirements for your business.
Internet
We'll get you online, establish your web presence and help your business harnessing the most important tool it has at it's disposal.
• WordPress website development and maintenance
• eCommerce websites
• Database-driven websites
• Domain name registration (we're a long-standing Nominet Registrar)
• Hosting for websites, emails and Microsoft Exchange
Network and Cloud
We'll mobilise your workforce, keep every file you cherish safe and help reduce all reliances and overheads associated with on-site IT hardware.
• Offsite file backup (workstations, servers, Microsoft Exchange)
• File Synchronisation and folder sharing – on-site and offsite (a great, secure alternative to Dropbox)
• Cloud services – virtual servers, SQL servers and management cloud infrastructure
• Migration from on-site services and hardware to the cloud
• Highly-experienced consultancy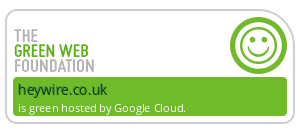 Commercial Photography
In a world of smartphones bursting with megapixels, it can be tempting to take business photos yourself. Don't make this mistake – give us a call instead.
• Product photography
• Commercial building photography
• Staff photos
• Business event photography
• Interior and exterior commercial photography
There's loads of companies doing this stuff – why pick us?
One Google search for a cloud services company or business IT expert, and you'll be met with countless options – just like the number of solutions that are now available to businesses looking to consolidate and raise the efficiency of their technology.
Heywire has seen a vast number of solution providers and technology trends rise and fall, but we've remained grounded for one reason: we know how to choose, implement and manage technology that offers genuine business benefits.
Three reasons we stand out from the crowd
We're not easily impressed, nor do we jump on the many tech bandwagons that pass by every week. Here's three reasons you should choose Heywire as your technology partner:
Acres of experience
Heywire has lived through the birth of the internet, and before that, the dominance of IBM mainframes and costly on-site hardware. We've moved with the times and our love of technology means we always have a curious eye on what's coming next.
Friendly, personal service
Technology shouldn't be a faceless business. That's why Heywire has always prided itself on stepping out from behind the bits and bytes in order to show a friendly face. As founder Steve Hey will readily point out, "the answer doesn't always involve IT!".
Great value for money
There's no point investing in technology if it doesn't offer a genuine return on investment. Heywire plays a significant part in such investments and knows that it too needs to provide great value for the services it provides
For any other questions, please email us at
or call us on +44 24 76 016319